无主之地 for Mac
v1.0.3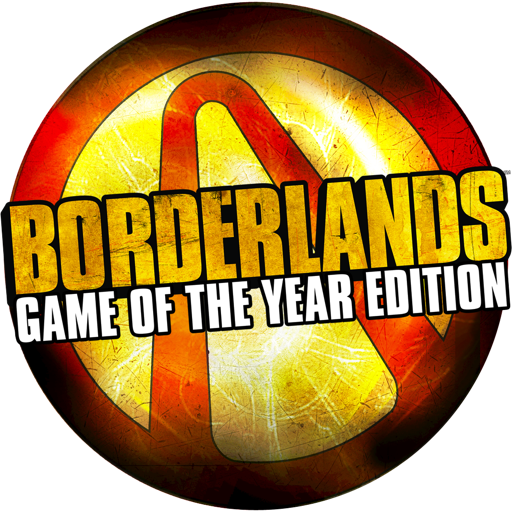 简介
《无主之地》将会提供给你一个无限的游戏空间,游戏提供了大量的关卡供玩家游玩,如果你对官方设定的关卡有所意见的话,还可以自定义任务。可以自定义的内容包括了任务目标,武器配置,敌人数量,掉落物品种类,几乎所有游戏中出现的要素都可以按照自己的喜好进行修改。
详细介绍
由GearBox开发的《无主之地》是一款带有RPG元素的FPS游戏,该作一改原先传统3D渲染,转投美术渲染风格。

《无主之地》将会提供给玩家最为目前为止最为出色的第一人称动作游戏体验,在游戏中有着大量可自定义的要素,车辆之间的战斗是目前为止公布的游戏亮点之一。只要你投身其中,《无主之地》将会提供给你一个无限的游戏空间,游戏提供了大量的关卡供玩家游玩,如果你对官方设定的关卡有所意见的话,还可以自定义任务。可以自定义的内容包括了任务目标,武器配置,敌人数量,掉落物品种类,几乎所有游戏中出现的要素都可以按照自己的喜好进行修改。
断网注册,完全破解
序列号sn:macxcnmacxcnmacxcnmacxcnmacxcnmacxcn

【运行要求】
最低系统安装配置
OS: Mac OS X 10.6.4
Processor: 1.8Ghz Intel
RAM: 1.0GB
Hard Disk: 10.0GB
Graphics: 128MB
Drive: DVD

推荐系统安装配置
OS: Mac OS X 10.6.4
Processor: 2.8Ghz Intel
RAM: 2.0GB
Hard Disk: 10.0GB
Graphics: 512MB
Input: Game Pad

不支持 ATI X1xxx 系列, NVIDIA 7xxx 系列 Intel GMA 集成显卡!

来自Mac App Store官方介绍
Bloodthirsty bandits. Vicious monsters. Tons of loot. Lock, load and face the madness.

Please check the system requirements below before you buy.

Gearbox Software's acclaimed sci-fi hit comes to the Mac, complete with all four Add-On packs. Borderlands Game of the Year Edition is a unique hybrid of first person shooter and role-playing game with a super sharp visual style and a compelling four player co-op mode.

Planet Pandora is a sparsely populated wasteland where the rule of law gets rewritten daily in the smoke of the last gun battle. Civilization consists of small outposts on the fringe of human influence, in an area called the Borderlands. Pandora's one claim to fame is a mythical Vault supposedly packed with fantastic riches.

• Unique hybrid role playing shooter that combines frantic first-person shooting action with accessible role-playing character progression.

• Super sharp graphics style gives Borderlands a unique comic book come-to-life look.

• Co-op Frenzy – drop in and out with up to 4 player co-operative for a maniacal multiplayer experience.

• Huge single-player game with four playable characters and serious replayability.

• Includes all four Add-On packs – The Zombie Island of Dr. Ned, Mad Moxxi's Underdome Riot, The Secret Armory of General Knoxx, and Claptrap's New Robot Revolution.

• Supports PS3 gamepads connected using Bluetooth®.


Important information regarding Borderlands Game of the Year Edition:

• Please note that we cannot reply to comments or questions left in Mac App Store reviews. If you require assistance, please contact our support team at [email protected]

• Borderlands Game of the Year Edition does not support the following graphics cards: ATI X1xxx series, NVIDIA 7xxx series and Intel GMA series.

• In order to run the game with satisfactory performance, your Mac must meet these minimum system requirements: 1.4GHz CPU / 1GB RAM / 128MB Graphics Card (not Intel GMA, ATI X1xxx series, or NVIDIA 7xxx series). On older systems you may need to lower the graphical detail to ensure the game runs smoothly.

• This game is not currently supported on volumes formatted as Mac OS Extended (Case Sensitive).

• Due to a graphics card driver issue, Intel HD 5000 and Iris graphics cards are not supported in OS X El Capitan.


© 2010 Gearbox Software, LLC. Published and distributed by 2K Games under license from Gearbox Software, LLC. Borderlands and the Borderlands logo are trademarks of Gearbox Software and used under license. 2K Games and the 2K Games logo are trademarks of 2K Games in the U.S. and/or other countries. Gearbox Software and the Gearbox logo are registered trademarks of Gearbox Software, LLC in the U.S. and/or other countries. Uses Scaleform GFX © 2010 Scaleform Corporation. Scaleform GFX is a registered trademark of the Scaleform Corporation. Unreal® is a registered trademark of Epic Games, Inc. Unreal® Engine, Copyright 1998-2010, Epic Games, Inc. Uses FMOD Ex Sound System © 2010 Firelight Technologies. All rights reserved. FMOD Ex Sound System is a registered trademark of Firelight Technologies. All other copyrights or trademarks are the property of their respective owners and are being used under license. All rights reserved. The content of this videogame is purely fictional, and is not intended to represent or depict any actual event, person, or entity. Any similarity between any depiction in this game and any actual event, person or entity is purely coincidental. The makers and publishers of this videogame do not in any way endorse, condone or encourage engaging in any conduct depicted in this videogame. The ratings icon is a trademark of the Entertainment Software Association. Mac and the Mac logo are trademarks of Apple Inc., registered in the U.S. and other countries. Feral and the Feral logo are trademarks of Feral Interactive Ltd.
…更多…
v1.0.3版本新功能
Fixes an issue with the add-on data that occurred in the 1.0.2 update:
• Adds support for additional game controllers.
• Improves performance on HD3000 graphics card.
• Adds zoom toggle option for magic mouse and trackpad users.
• Adds increased cursor control (mouse smoothing) option.
…更多…
相关截图
图片数: 5 张
(点击图片查看大图)

Notice: Undefined index: post_title in /www/wwwroot/maczapp.com/api/common.php on line 881

Notice: Undefined index: post_name in /www/wwwroot/maczapp.com/api/common.php on line 882

Notice: Undefined index: post_title in /www/wwwroot/maczapp.com/api/common.php on line 888

Notice: Undefined index: post_name in /www/wwwroot/maczapp.com/api/common.php on line 889

上一条:炸弹小组 BombSquad
下载列表
文件数: 2
文件大小: 8.86 GB
举报
无主之地 for Mac (链接无效或不能下载请点击反馈给我们)