Easy CSV Editor for Mac
v1.41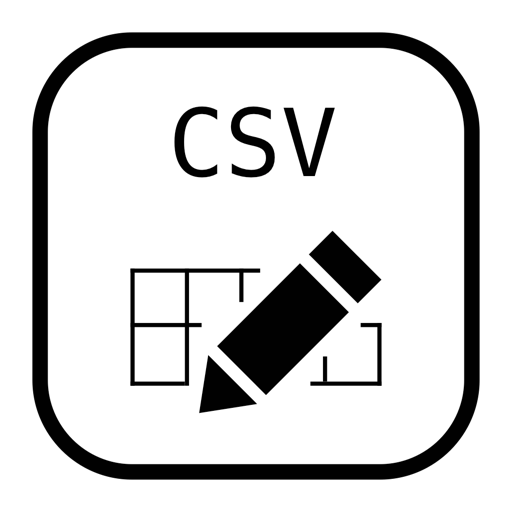 来自Mac App Store官方介绍
Easy CSV Editor is a must-have editor for CSV and TSV data files. In a clean and user-friendly interface, it offers simplicity and flexibility to edit both small and large documents.
Features
Open, create, edit and save CSV/TSV documents even if they don't have the same number of fields in each row!
Use "Clear" menu item to "cut" the last fields from a row (or even entire rows!). This way you can produce beautiful headers for your documents, without the usual clutter produced by the field separators.
Find and replace using a familiar, yet powerful, interface
Sort the entire document or a range of rows, based on sorting rules
Auto-detection of CSV format, while providing you the option to adjust the detected parameters
Select a group of cells to copy, cut or clear. This is in addition to selecting entire rows and columns!
Full support for undo and redo
Copy and paste data between Easy CSV Editor and other applications (i.e., Excel, Numbers). Works the other way around, too!
…更多…
v1.41版本新功能

Version 1.41:
Improvements
You are now able to select an entire row by using Shift + Space and an entire column by Control + Space. Corresponding menu items are available in the "Edit" menu, too.
By default the application now uses the global "Find" clipboard for sharing the find terms. This means the stuff that you enter in one application (or in another Easy CSV Editor document), will automatically appear in another. You can disable this functionality by clicking the "search" image in the Find bar (Command + F) and then uncheck "Use Shared Find Clipboard".
Adds "Find" -> "Use Selection For Find" (Command + E) and "Find" -> "Use Selection For Replace" (Command + Shift + E) commands. These are especially useful for power users.
Adds a shortcut to select all the cells from the document by clicking the blank rectangle above first row and to the left of first column.
Bug fixing
When auto-filling a series of numbers, the grouping separator is now respected: if the last value from the series contained grouping separator then the auto-filled numbers will contain it, too. Otherwise, they will not contain it.
Fixes an issue where editing a cell didn't work properly after hiding some rows.
…更多…
相关截图
图片数: 5 张
(点击图片查看大图)
下载列表
文件数: 1
文件大小: 5.4 MB
举报
Easy CSV Editor for Mac (链接无效或不能下载请点击反馈给我们)

文件名
版本
下载次数
上传时间
上传者
操作
1.
Mac App Store官方下载

价格:¥50元

v1.41
17
2019-07-26
Vlad Badea
商店下载
苹果软件园为积极推动苹果电脑在国内的发展,倡导资源共享,软件汉化。所有下载链接均来自网友分享试用,请24小时内删除!希望大家有条件的积极支持正版.
如果你的网盘有这个App的资源,欢迎共享下载地址哦,只需要几秒钟哦有网盘资源的点击感谢分享下载地址